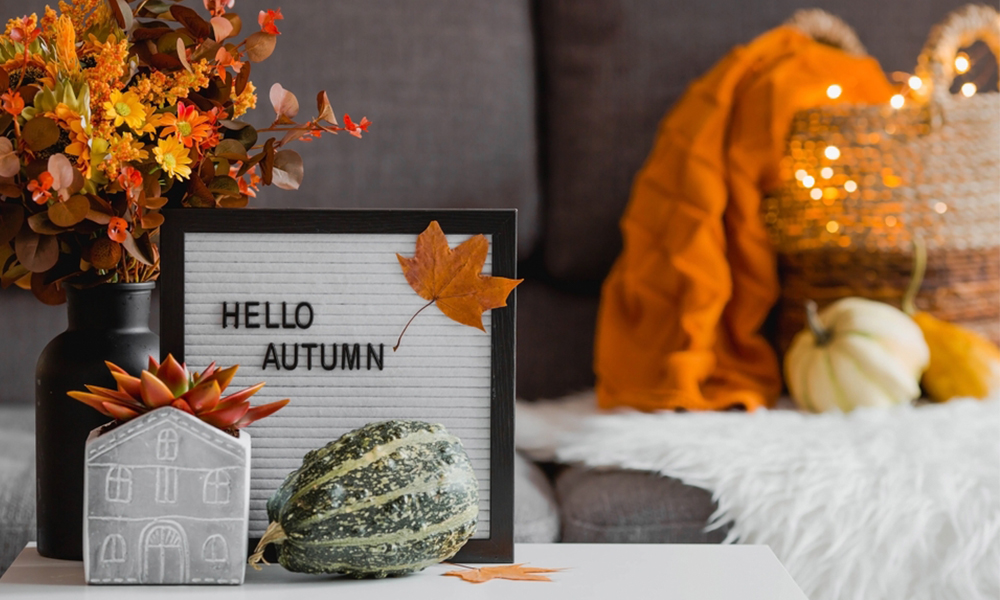 07 September 2022
Usher the fall season in style
There are many apartment-friendly tricks you can use to step into fall. The best part about most fall apartment décor is that they can work all year. You can keep making minor adjustments as you go.
Staying in theme with the seasons is fun, especially when you keep the interior décor in your Azara Apartment fresh. You can make a few apartment-friendly tweaks this fall season to keep up with the aesthetic. Give the cozy spaces in your apartment a new feel with fall décor ideas.
Fall Decor You Need
Take advantage of a moodier atmosphere with dark florals as the days become shorter. You can use apartment-friendly wallpaper to avoid permanent damage to the apartment. Darker themes seem appropriate for autumn but work perfectly all year long. Try some dark throw pillows with flowery patterns in monochrome colors or more striking jewel tones for something less long-lasting.
Try These DIY Projects This Season
Here are some fall-specific DIY trends that are safe for your home:
Fall potpourri
Don't you adore the aroma of winter and autumn? DIY Stovetop Potpourri typically, oranges and cinnamon sticks serve as a reminder of these warm months. Making some simple stovetop potpourri at home may purposefully introduce the aroma into your apartment living.
Shabby moss balls
All the materials for making cozy season rustic moss balls are available at your neighborhood craft shop. Consider gluing acorns and miniature pine to the outside of the artificial moss balls, and if they aren't available, you can always use a foam ball and stick it on the faux moss. For a subtle hint of rustic fall in your home, arrange them in a festive bowl or pile them up on your coffee tables.
All News